Viking Heralds 25th Anniversary with Special Event – Cruise Maven
5 min read
Viking continued to celebrate its 25th anniversary this past Friday, September 30, 2022. To mark the special occasion, three classes of Viking ships sailed in procession into Amsterdam. 
Present for the first-ever historic journey and naming ceremony were the new expedition ship Viking Polaris, Longship Viking Mani and the ocean-goingViking Mars.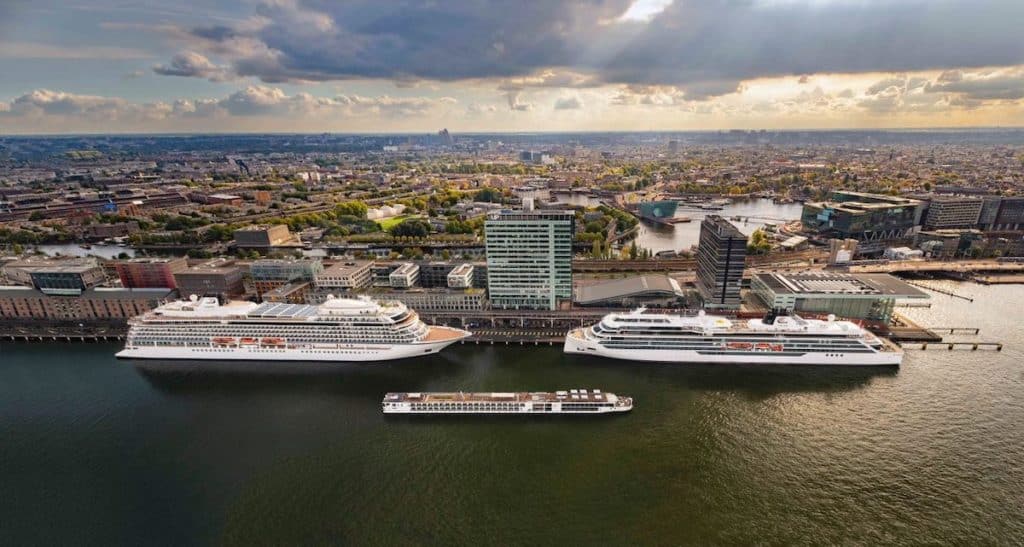 Viking's 25th Anniversary and Naming Ceremony
All three ships departed Amsterdam and sailed to Ijmuiden, Netherlands as a powerful symbol of Viking's deep maritime history and continued growth. 
RELATED:  Viking 25th Anniversary Marks Company Milestones
The two new expedition vessels, Viking Polaris and her sister ship, Viking Octantis share new and exciting North American itineraries. Viking Octantis is currently sailing the Great Lakes for her inaugural season. 
Polaris will join Octantis where they will journey the Great Lakes together through spring and summer 2023.
"Today is historic for Viking—to celebrate our 25th anniversary, to have all classes of our ships sailing together for the first time, and to name our phenomenal new expedition vessels. We are very grateful to their godmothers, Liv Arnesen and Ann Bancroft, for honoring us. As renowned explorers who became the first women to ski across Antarctica, they are the perfect choice for ships that are designed for expeditions," said Torstein Hagen, Chairman of Viking. "I am very proud of what we have accomplished in our first 25 years. And in our view, we are just getting started. Where do we go next? Onwards."
To commemorate this special occasion, godmothers Liv Arnesen and Ann Bancroft, of Viking Octantis and Viking Polaris respectively, were there to assist in the ceremonial ship blessing. 
Because Viking Octantis was cruising the Great Lakes, the ship remotely received her blessing of good fortune and safe sailing. 
Choosing Arnesen and Bancroft to helm the godmother role was an easy decision for Viking. The pair have been working together for over 20 years, having been the first women to ski across Antarctica in 2001.
They've since cofounded a joint organization with a focus on creating sustainable water initiatives across the globe. 
Viking's 25th anniversary also marks several new milestones.  By the end of 2022, two more ocean ships will join the fleet.  So far, eight new European river ships, Viking Longships entered service just this year. 
These environmentally bespoke Viking vessels will navigate the intricate river waters of the Mekong, Nile, and Mississippi rivers. 
RELATED:  Viking Saigon Begins Mekong River Cruises
Expect exciting news announcements from the new ocean sister ships soon!
Details on the Viking Expedition Ships
The new Polar Class Viking Octantis and Viking Polaris host 378 guests in 189 staterooms. The vessels are purpose-built for expeditions, at an ideal size for safety and comfort in remote destinations.
With more indoor and outdoor viewing areas than other expedition vessels, guests are as close as possible to the most magnificent scenery on earth.
Highlights of Viking Expedition ships: 
The Aula: A stunning panoramic auditorium inspired by the University of Oslo's famed ceremonial hall, the former venue for the Nobel Peace Prize ceremony. Used for lectures, daily briefings, documentaries and films.
Finse Terrace: An outdoor lounge area just above sea level with recessed, heated seating and lava rock "firepits,".
The Hangar: A state-of-the-art, industry-first in-ship marina providing ease of embarkation and disembarkation of Special Operations Boats and other equipment while sheltered from the elements.
The Bow: In the case of inclement weather, The Shelter is a comfortable, partially enclosed space for guests to warm up with a hot drink before going back out into the elements.
The Science Lab: Guests have supervised access to The Science Lab to learn from and participate in undertaking meaningful research with scientists.
Expedition Central: The hub for the expedition team to consult with guests on their expedition activities and share knowledge about the destinations on a one-on-one basis.
Dining Choices: The Restaurant offers fine dining featuring regional cuisine and always-available classics; the casual World Café; Mamsen's, serves Scandinavian-inspired fare; and Manfredi's offers the best of Italian cuisine.
The Nordic Spa: Offers guests opportunities to experience the ultimate healthy Nordic traditions, with an indoor heated pool set against expansive windows and a badestamp (wood-sided hot tub) that is open to the outside.
Explorers' Lounge: the Explorers' Lounge provides guests an ideal space to take in the magnificent scenery, share discoveries with fellow travelers or to enjoy a drink.
The Living Room: On the Viking Octantis and the Viking Polaris, The Living Room is located to maximize views of the surroundings through floor-to-ceiling windows and a library that informs even the best-read explorers.

 

Nordic Balcony: A first for polar expedition vessels, all staterooms on board Viking's expedition ships feature a Nordic Balcony, a sunroom that converts into an al fresco viewing platform with an observation shelf at elbow level to stabilize binoculars or a camera. Guests can choose from six stateroom categories that range from 222 sq. ft. to 1,223 sq. ft.

 

Expedition Ship Suites: Nordic Junior Suites (322 sq. ft.) and Explorer Suites (580 sq. ft.) on the Viking Octantis and the Viking Polaris are similar to those on Viking's fleet of ocean ships. 

This includes

wood detailing and amenities plus additional storage and seating, an expanded bathroom with extended shower and double sinks, welcome champagne, a fully stocked mini-bar replenished daily, complimentary laundry, priority restaurant reservations and more.

 

Explorer Suites feature two separate rooms, a Nordic Balcony and a full outdoor veranda. Additionally, each ship features one Owner's Suite (1,223 sq. ft.) that has three rooms – a living room, a board/dining room and a bedroom—as well as a 792 sq. ft. private deck.

Enrichment On Board and On Shore: Viking has created the world's leading scientific enrichment environment in an expedition setting. Exclusive partnerships with the Scott Polar Research Institute at Cambridge University, The Cornell Lab of Ornithology and the National Oceanic and Atmospheric Administration (NOAA). Thirty-six experts accompany each journey as part of the Viking Expedition Team, including a photographer, field research scientists, general naturalists, mountain guides, kayak guides, submarine pilots and specialists.
Environmentally Considerate: Viking's expedition ships have set a new standard for responsible travel with an energy-efficient design that exceeds the Energy Efficiency Design Index (EEDI) requirements by nearly 38%.  
Jamie Kennedy